The Rosie Black Chronicles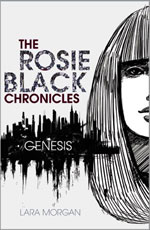 Book one, The Genesis Project.
Five Hundred Years into the future the world is a different place.
The Melt has sunk most of the coastal cities and Newperth is divided into the haves, the Centrals, and the have-nots, the Bankers. Then there are the fringe dwellers, the Ferals.
Rosie Black is a Banker. Her mum is dead, her dad is a mess and Rosie is struggling to cope, but then she finds the box and life changes forever: a mysterious organization wants it – and they'll kill to get it.
Forced to rely on two strangers, Rosie is on the run, but who can she trust? Pip, the too attractive feral boy, or the secretive man he calls the boss?
From Earth to Mars, Rosie must learn the secrets of the box before it is too late.
Read an Excerpt here…
Book 2: Equinox
Bent On revenge, Rosie is still working in secret to take down Helios. But her dad is locked away, Pip has abandoned her and Riley isn't telling her the full story. Where can she turn for help? And how many sacrifices is she prepared to make to destroy Helios?
Praise for The Rosie Black Chronicles.
"Will have you on the edge of your bus seat." Dolly.
"Fast paced and stylishly written." The Australian.
Find out more at the Rosie Black Chronicles BLOG
or at www.rosieblack.com
Book Three: DARK STAR – To protect Pip and fulfil her deal with
Sulawayo, Rosie Black has joined Helios. But trouble is brewing within the ranks  – a rebellion is rising. Who is part of it? Who is trying to take full control of Helios? And how does the mysterious Dark Star fit into these plans?   The stakes are high for Rosie and the survival of Pip and the world as she knows it depends on her.
Can Rosie find the truth and save those she loves before it's too late?
For more information about Rosie's world go to the Rosie Black Blog at: http://laramorgan.wordpress.com